If you have spent any time looking through the 1979-1985 catalogs on this site you need not thank me. All of those catalogs came to me courtesy of Norman Halperin. Norman was the Panasonic National Sales Manager for the U.S. from 1979 through the Spring of 1984. He's not only shared his catalog archive with us, but also some interesting memories and vintage photos.
(DN = Me, Darin Nederhoff / NH = Norman Halperin)
DN: How did you happen to find your way to Panasonic? Did you do anything other than work in the bicycle division for them?
NH: I was working for an automotive parts & accessory rep agency as an independent sales rep when a friend of mine who was a big shot in the Panasonic TV/Stereo Department told me that the bike dept was looking for a sales rep. He set up an interview for me and the next day they offered me the job. I had no bicycle experience but had sales experience selling to small mom & pop type stores in the auto parts business. Only worked in the bicycle division at Panasonic. With only 6 months experience in the bike business I'm senior man in
sales dept & that's when Panasonic decided to go nationwide – I became National Sales Mgr & started hiring reps all over the country.
NH: Now you have to understand that the Bike Dept at Panasonic was less than a thumbnail of Panasonic's total business – about 4 years later they started making some internal changes & moved the Bike Dept into a different division. Everybody above me was Japanese & in the
new division I soon realized I wasn't going to be able to do things & have the control that I had in the old division – in fact my old boss (Japanese), who I had worked with for almost 4 years, told me (off the record), that I wasn't going to be happy with the way things were going to be run. When I left Panasonic many dealers who I had become very friendly with told me I was making a mistake but they didn't understand the changes being made internally. I remember my wife getting calls from these dealers saying that if Norman had stayed this wouldn't have happened – this was bigger than Norman – the reason they stopped was they couldn't compete any longer making bikes in Japan with bikes coming out of Taiwan – in fact I think they tried making some models in Taiwan but this defeated the purpose – as they had their own factory – National in Japan & that's when upper management ended Panasonic for the U.S. market.
DN: What did Panasonic require to become a dealer in those days?
NH: I think all it took to become a dealer was an initial order of 10 or 15 bikes.
DN: Was it hard to entice dealers to carry a bicycle brand most often associated with consumer electronics?

NH: We were very strong on the East Coast because we had a very good sales rep – "me". Schwinn was very strong and since those dealers knew that Panasonic/National was making some of their models it was easy to get the Panasonic onto the floor. Also, when Schwinn had their strike (early 80's) it really opened the doors for us. The only place we weren't strong was the West Coast – we were always considered a "Dept Store Bike" The West Coast was always much more into specifications – you couldn't just tell a west coast dealer it was a Shimano Derailleur, they wanted to know which derailleur. The East & Midwest were more concerned with price.
DN: The Aero Road 6000 was a significant bicycle for the time. Were they good sellers for Panasonic at time time? (Any idea the average number sold in a year?)
NH: Our market was the entry level bikes – Sport, Sport 500, Sport 1000, Villager, Sport Deluxe, DX-2000, Tourist – these were probably 95+% of our sales – I think we only did about 20-30 of the 6000.
(Darin's comment: Holy smokes! I would think there must have been more than 20 or 30 since I know of two right here in Northern Iowa.)
DN: Speaking of sales figures, how many bicycles was Panasonic selling annually in North America during your time with them? (Models such as the Sport 500 are still fairly easy to locate for sale these days but the upper models such as the DX-4000 and Team models are quite rare)
NH: 1979 – approx 25,000
1980, 1981, 1982 around 35,000
1983 – 40 to 45,000
1984 – projection was for 50,000 – not sure if they hit it
(Photo above: Norman Halperin (center) at the 1982 or 1983 New York Bike Show)
DN: Who made the decisions in terms of what components would be used on each model for North America?
NH: I went each year to Japan – usually in September to set up specs for the following years models. Back then NEW bikes were introduced at the New York Bike Shop which was Mid February. In Japan they would
show me all the new things from Shimano, SunTour, Diacompe, Araya, Kashimax etc. The export department would come up with some proposals for each model and we'd spend a week going back and forth – even
though we were supposed to be the same company they negotiated with us like we were Schwinn or Raleigh. Here is a little example – if I wanted to upgrade from plastic handlebar tape to cloth there was an up-charge of 50 cents, but if I wanted to downgrade from cloth to plastic the reduction was only 25 cents. Mr. Fujimoto had this big black book that had all the prices in it.

(Photo above: Norman Halperin (center) with members of the export department during his first visit to National Bike Factory (Panasonic) in 1980. The man to Norman's right is Mr. Fujimoto who was the Head Engineer at the time.)
NH: At one time I knew every component on every bike coming out of Japan – Fuji, Nishiki, Miyata etc. – I would make a spread sheet of every model comparing price points & specs. I remember Yoshi Shimano
calling me & asking for a copy of it.
DN: Panasonic also built bicycles for Schwinn among other labels. Did that pose problems when marketing and pricing Panasonic brand bikes?  (In other words, would Schwinn be upset when a similar Panasonic model came along with a more attractive price-point than what they were offering?)
NH: The factory had to be profitable so we didn't really get any special treatment. They wouldn't even tell us what Schwinn was spec'ing on their bikes.
DN: Did you ride a Panasonic bicycle at the time? If so, what model?
NH: I was never into bikes – it was a job for me – rode bikes as a kid but I don't think I ever brought home a Panasonic.
(Darin's comment: Darn, I was hoping he had a stash of mint AR-6000's stashed away somewhere.)
DN: Is there any model that stands out in your mind as your favorite Panasonic?
NH: No real favorite – was into selling as many as I could – Sport 500 & Villager were our biggest sellers because of price & the front freewheeling system on the Villager.
DN: What was it like to work for a Japanese based company in the early 80s?
NH: Everyone above me in the Bicycle department was Japanese. Had a great boss (Art Yoshida) who taught me a lot about the industry. Met many great people on my trips to Japan – had a special dinner with Shozo Shimano (he was Yoshi's older brother). I still see Yoshi at Interbike and spend a few minutes talking about the old days. He (I believe) is retired but still comes to the show as he lives in the U.S.
Sometimes when the Senior Managing Director of the National factory was at the meetings conversation would lapse into Japanese – but other times it was always in English – I would be the only American.
DN: Did you have any experience with the Panasonic racing team in America?
NH: The Racing Team was sponsored through the factory – we had very little to do with them.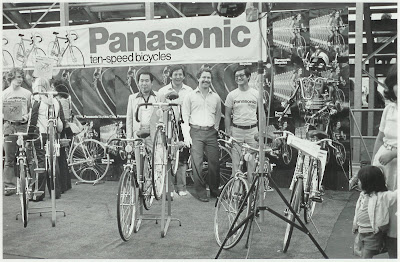 (Photo above: Outside the Velodrome in Trexeltown, PA around 1981. Pictured L to R: Art Yoshida (Dept. Manager and Norman's Boss), Norman Halperin (National Sales Manager), Don Robertson (Midwest U.S. Rep), Jeff Suzuki (Assistant Dept. Manager))
DN: What is your best memory about your time as the National Sales Manager for Panasonic?
NH: Great benefits/expense account – meeting bike dealers all across the country – and still bumping into some of them at the trade show – growing up with east coast dealers who have been my friends for almost 30 years – traveling to Japan.
Back in the 80's there was Eddie Schwinn, Randy Ross & my midwest salesman who made me a badge for the CABDA show "Norman Panasonic"
DN: Worst memory or experience while working for Panasonic?
NH: None – it was great experience & got me started in the bike industry which has been good to me all these years.
DN: Could you ever see Panasonic bringing their bicycles back to the U.S. market?
NH: I don't think they would ever get back into US market – no way they could compete with bikes coming out of Taiwan & China.
DN: What did you do after leaving Panasonic in 1984?
NH: I went to work for Wilkens & Associates. They were the Shogun Jeter bike distributor – after that Dorothy & I started Halperin & Associates.
DN: You and your wife Dorothy continue to work within the bicycle industry as independent reps? What brands do you work with these days?
NH: We cover the New York metro area – including NJ & CT. We rep the following companies… Electra/Townie/Amsterdam Cruisers, DK BMX Bikes, Canari Cyclewear, RavX Accessories, Vigor Helmets, and
Bushwhacker Bags.
Thank you "Norman Panasonic"… for sharing your memories as well as your old catalogs with us!